What's the jacquard towel?
Look at the following picture: the same custom logo can be on both sides, just the logo color is opposite, for example, if the front side logo and the towel background color are dark purple & light purple, then the back side logo color should be separately light purple & dark purple. and both sides of the logo come from the weaved terry-dyed yarn, it is created through a loom, and the graphic of the jacquard towel is incorporated into the weave, instead of printed onto the towel fabric
What are the features of this jacquard towel?
1: Super soft and fluffy terry loop can absorb the water quickly from your body, it's used comfortably.
2: It supports extra size, like 100x180cm or even 110x213cm, it's enough for two adults to lay on it.
3: There are different weight thicknesses, generally 400-600gsm, the max GSM is 600, if it's more than 600, the hand feeling and comfort of use are not good, because the size is certain, if there are too many yarns get together in one square meter, the density would become very high, the towels would be very hard feeling, we suggest the best gsm is 450gsm or 500gsm, of course, if you have budgets, 400gsm is also ok, this thickness is the lowest weight for a jacquard cotton towel.
4: If you are a brand manufacturer, and you want to design your own towel with your own idea, the design required 2 colors in the same direction, please check the below picture, if your design has 3 colors, white, blue, red, then you must guarantee the horizontal orientation or vertical orientation is separately only 2 colors, otherwise, your design is not ok to make jacquard, you have to choose the printed or embroidery.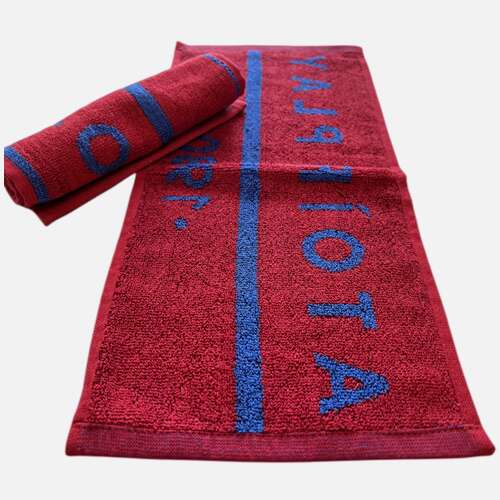 What's the printed velour towel?
Please check the below picture, this is a velour cotton beach towel
As you can see this towel printing side is like velvet fabric, that's because the towel terry is cut down, and the production workers need to make sure the towel is very flattening before they decide to print on it, generally, the printed design or logo is overprinted, and if we don't handle the terry loop, it leads to the printing effect looks not full, there are many white dots (the bottom yarn) appeared and jumping out, think about it, no one like this printing feeling and no one would buy it.
What are the features of the printed towel?
1: Single printed & Double printed
Generally, its velour side is printed, and the back side is white terry, most of them are single-side printed, but sometimes, you can find the double side design cotton towel with colors or printed, like below picture, one side is velour printed design, another side is pure color printed, this is also popular, but if you want to design and sell them, please remember to confirm it with the vendor, because some dark color is very hard to make double printed, it's very easy to penetrate another side, the printing effect is a disaster, so please pay attention to choose the correct color.
2: Size and Weight chart:
Below is the popular size and weight for all printed towels, if you want to do your own towels business, you can have a reference accordingly.
3: The MOQ advantage:
If you want to find a towel manufacturer to make your own design towel, for printed towels, it's not limited to colors, even if you have 10 colors in one design, it's very good and friendly for new business starters, Low MOQ, 50pcs per design is ok to start.
4: Different printing ways: digital printing VS reactive printing
For digital printing, we can do any design, there are no colors numbers requirements for one design, but reactive printing is not available, it must be less than 10 colors in one design, and better fewer gradient colors, because these two printings are made by a different machine, the printing methods are different, on a cotton towel, if your colors are very rich, you can consider using digital, but if there are 3 colors in your design, you must try to use the reactive printing, because reactive printing is more suitable and the printing effect is more fully and brightly.
Here is a comparison picture:
For more printed towels, you can contact us