What materials beach towels would be the hottest ones in the summer of 2023?
100%Cotton
Microfiber suede
Microfiber waffle
Microfiber polyester
Bamboo(70%bamboo +30%cotton)
Above these 4 different materials would be the most mainstream in the market. Now let's start unlocking the characteristics of these four different materials!
1. 100%Cotton
This material is the best and most popular one in the market, it's comfortable, highly absorbent, and luxury good quality. generally, if you are a company that sells these towels, cotton is the best choice. cotton towels can be printed with your own design or logo, the printing side is silk feeling velour finished, and the back side is white terry, skin-friendly, and super absorption.
If you don't like the printed way, cotton material towels also can be made in jacquard woven style, the double sides are the same design or logo and just the color opposite.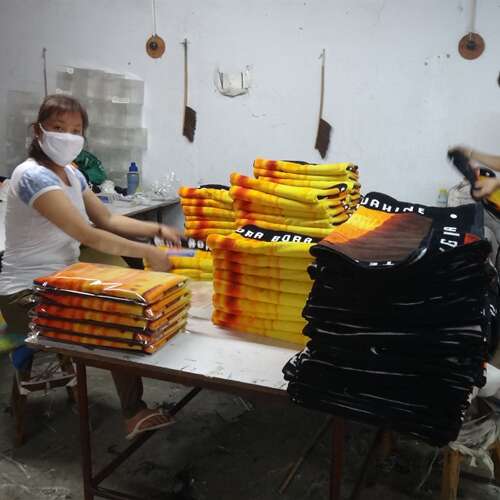 2. Microfiber suede
It is a new material in recent years since 2014, very hot in the market, it's a kind of super microfiber fabric, just like plain cloth, but they are very quick to dry, keep cool and sand free, it's very convenient for people to use on the beach, they can be made with double side printing, it means the front side and back side both can be printed your own design or logo, it's very suitable for brand advertisement if you are doing the towels business. when they are covered in the sand, it's not easy to get a lot of sand stuck, and that's the reason more and more young people like this kind of towel.
3. Microfiber waffle
This material beach towel feels a little more heavy and thicker than suede, generally suede towel weight thickness is 150gsm or 200gsm, but waffle is 350gsm or 390gsm, this towel quick drying, double-sided printed, and sand free. it is also suitable to be used as a picnic mat. perfect for lounging around on the sand or picnicking in the park, with so many uses, this towel is versatile and convenient.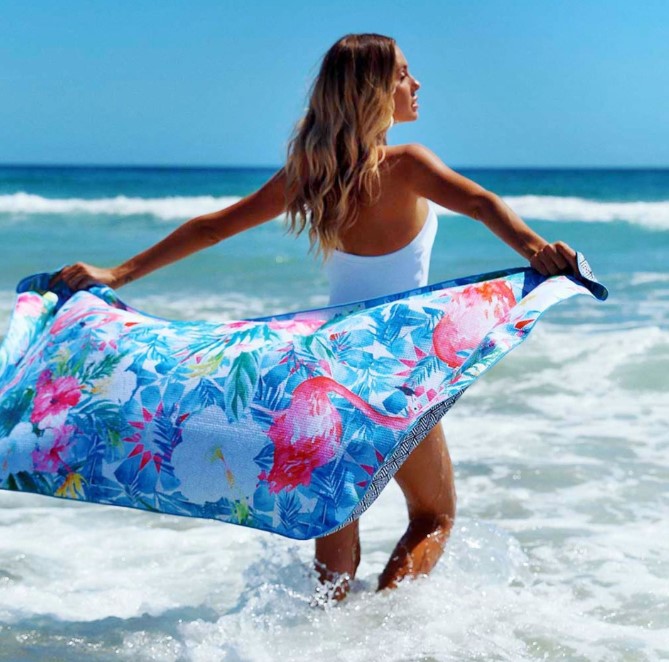 4: Microfiber polyester
If your target is not a lot, you can choose this material beach towel, even though the hand feeling is not good as cotton, the absorbent is not bad, especially since the price is cheap, and there is not much limited when you want to do your own designs, or you just want to buy a cheap towel on the beach or poolside, this towel is the one, it's lightweight, portable.
5: Bamboo (70%bamboo +30%cotton)
For this material beach towel, we only can do a jacquard woven pattern, it's not working to make the printing, no matter whether any towels, we need to handle the long loop to be short or plain before we want to do the printing on it, because of the bamboo fiber weak and too soft, it's hard to do printing way, so we only can do jacquard, the same effect as the pure cotton, the same logo on both side, just the color is opposite.