"I want to make my own logo printed on the towel?" when you purchase custom towels from the manufacturer, you need to know the point for the printing ways, what printing would they use for my towels? this is a question.
What is the reactive printing?
https://en.wikipedia.org/wiki/Reactive_dye_printing this is the explain from Wikipedia, It clarifies the exact procedure of this printing method and its advantages. but for towels, how it works? let's see the below
When the towel on the guide belt is aligned with the position of the printing net, the frame of the net is pressed down and the towel is attached to the frame, and the fine round magnetic steel bar placed inside the frame is driven by the magnetic field controller below the conveyor belt to roll back and forth, and the pigment placed inside the net is printed onto the towel through the hollow pattern. The paint placed in the flat screen is printed on the towel through the hollowed out pattern. After the first colour pattern is printed, the net frame is lifted and the guide belt sends the towel to the next net frame position to stop and start the printing of the second colour pattern ……… until several colours (generally 8 to 10 colours) are printed in sequence in register and a coloured towel is completed, while the second towel follows The first towel is printed without intervals of colour registration ……… week after week, continuous operation. After each towel is printed and dyed, it is immediately sent to the tunnel steam drying room for drying, then twisted edge, finishing, quality inspection, packaging, until it is warehoused in the factory.
The reactive printing basic progress on the terry towel just like this:
What is the digital printing?
For towels, If you want to make more colors printing, factory would recommend you to use the digital printing, because this printing is based on the computer that transfer your design to the machine, there is no colors limited, especially for some gradient colors, as for the different material towels, the printing way for digital is different too, we use the digital direct injection printing on the cotton velour towels, digital heat transfer printing on the microfiber towels, no matter cotton or microfiber, both no designs patterns limited, you can print any! meanwhile, the digital printing MOQ is much lower, 50pcs even 30pcs per design is also workable to move on.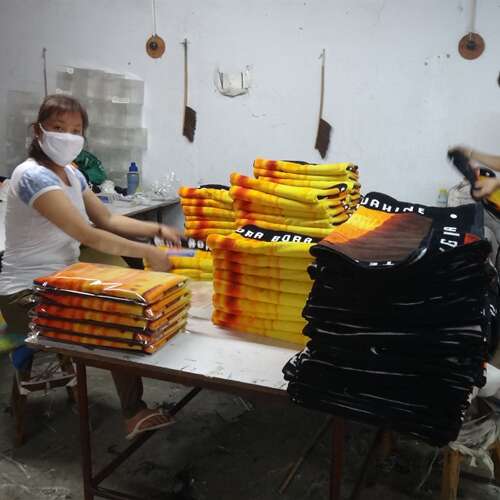 Digital heat transfer printing