If the manufacturer can provide high-quality Turkish beach towels, what conditions do they need to meet?
The strong production line
In China, there are many towels factory, but we need to choose the best, the faithful one, we have to make many compare jobs, and the long time established factory is the first choice, after all, they have very mature production experience, which proves they are excellent in this field if they exist on the market for a such long time, at least 3 years production line, but it's not rigid, some young factory is also very responsible and advanced on customer service, we need to compare them in some ways more, like price, delivery time, seller's service attitude, sample preparation.
The product test
Here means is not ask you to find a third party to check the towel product, it means you need to ask for a sample from the supplier to see and feel it, of course, you can collect more pieces samples from the different vendors and confirm which one is the best, including the material, size, weight thickness, and printing way(fade or not, washing it for several times). the minimum order quantity for customized orders as well!
Logo way
For many different towels, there are a lot of logos ways, like printing, embroidering, jacquard woven, and dyed yarn, etc. we need to check which one is fit to your brand or company, regarding the Turkish beach towel, the best logo way is jacquard woven. firstly, the Turkish towel material in itself is a yarn-dyed woven fabric, if the logo way can be the same as the towel weaving, then it looks very complete and fluent, but this logo way Minimum order quantity is a little higher than printing, at least 1000pcs, if your quantity for customized order is only several hundred, then printing pattern is the one you have to consider, 300-500 pieces is also to make.
1: Jacquard logo pattern Turkish beach towel
2: Printed logo pattern Turkish beach towel
3: Embroidery logo pattern Turkish beach towel
Delivery time
When we confirm to move forward with the towel sourcing for a brand event, we surely have to check and choose a good delivery manufacturer, some of them would delay your goods, and you may miss the event, which would make you get a big loss. In order to avoid this thing happening, we need to advise our point to the manufacturer very clearly. for example, if we buy 1000pcs custom Turkish towels, my target delivery is the bulk goods need to be sent to my address no later than March 10th, if it's late, I would not buy them, because there is none of meaningful to get them, because we missed the event date. after you told the truth to the manufacturer, the factory would highly pay attention to the production time.
Package
Before we decide to cooperate with the manufacturer we finally chose, one thing we also need to take notice, that is the package, basically, the Turkish beach towel package is opp bag + carton, but most manufacturers support the customized inner package, such as the wrapping paper, the sealed bags, and woven bags, etc, if the manufacturer can support this, that would be very convenient for us to design more outstanding elements on our towels, it's very good to resell or publish our towels.
below is the different package way for Turkish towels:
1: Wrapping paper
2: Sealed bags
3: Woven bags
4: Opp bag
Shipment Support
Because of more and more intense competition, many suppliers provide the shipment included in their product sales, If we have no good price and service shipping company resources, we need to ask if the factory can provide door-to-door service or DDP service. if the factory can do this, that would be very easy for us, we don't worry about anything, just to confirm which shipping way we need (by air or by sea), and see if the shipping quotation is workable for us.
1: Shipping express( FedEx / UPS / TNT/ DHL)
2: Shipping by air to the destination airport and shipping by express to your address
3: Shipping by train to the destination station and shipping by express to your address
4: Shipping by sea to the destination seaport and shipping by express to your address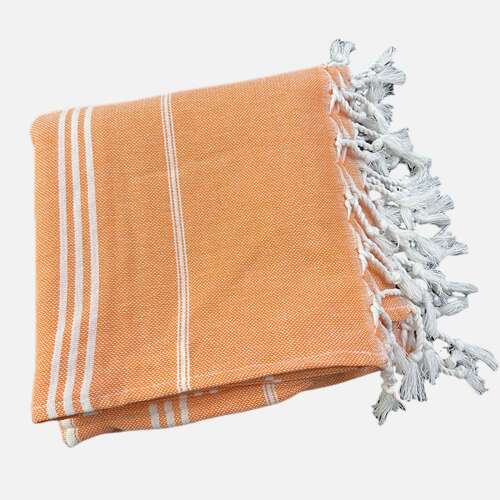 Thoughtful after-sales
If a manufacturer can ask if everything is ok when you receive the Turkish towels, that is a good one, most of them would forget to know more about the customers after the goods are shipped out from their factory. We hope the seller can answer any of our questions after we bought towels, for example, if we find the quantity is not correct, or the packing is broken, we definitely hope the seller can help us to solve these problems until we are satisfied. some suppliers think the order is small, they would have no patience for customers or they would keep silent when customers come up with any issues about the towels, this is not right. if we want to make more orders, we would not choose them again.
The good sales manager
Honestly, when we find a manufacturer, the first impression comes from the sales manager, if this person is not easy to communicate with, that would be very difficult for us to move forward, poor English, strict attitude, and unprofessional service, all would waste our time. so what kind of sales manager do we need?
1: Warm communication
If a sales manager can talk with you very warmly, the business would become very relaxed and smooth, she or he knows what you need and what you care about, and they can provide the perfect product solutions and professional service, and let us feel very worthy to cooperate with them.
2: Ability to provide the new ideas
Except for good communication, the sales manager also can provide new ideas for the towel design or package, even the product choice in our local market, that would be very lucky for us, as professional sellers can give you many experiences and good suggestions for the towels.
3: More patience
At the beginning of choosing the Turkish towels manufacturer, we need to know if the seller has enough patience to answer our all questions, after all, not every customer knows the towels very well, it's a very normal thing for us to get something very clear before they pay the order.
A fair payment way
When we choose the final supplier, after we confirm the price and delivery, the other important thing is how to pay them, normally, the standard payment way is 30%TT in advance and 70%balance before shipment, but for the first business, we would be very careful with the new vendor, we would like to use a more safe way to pay it, for example, PayPal or Alibaba assurance. if the supplier can provide a more flexible payment way, it can help us to rest assured to place orders quickly.
Sample policy
Before we place an order, we need to check the towel quality, factory would provide the sample, but most of the customized samples need cost, so how do we use the sample policy?
1: Existing sample
When the towel material and production way is the same as the factory's existing sample, we can ask for sending an existing sample to check the quality, this would save cost and time. but if our towels craft is required very strictly after we checked the existing sample, we can confirm if the current manufacturer is the correct one you are looking for, then we can pay them directly to arrange the custom Pre-Production sample.
2: PP sample
PP sample means a Pre-Production sample. if we want to see the final effect of the towels before the bulk order moves forward, we can ask the manufacturer to make a custom sample for us at first, generally, after you place an order, there is no custom sample fee, factory would make a free custom sample for us to review the quality, if we feel ok, then factory would make the bulk production according to the pp sample directly.
3: Shipment sample
After the bulk goods are finished, we can ask the factory to provide us with the shipment sample, this is a sample that comes from the bulk order, sometimes, we worry the quality of the bulk goods would be different from the pp sample, and we would like to see the shipment sample quality again before shipping, but this happened the first cooperation, if the factory does it very well, the future cooperation, you don't need to ask for this sample, after all, sending and confirming needs time, it would waste a lot of time for the buyer.
Inspection before shipment
Factory QC
When the goods are finished 80%, generally, we need to ask the factory to arrange the quality checking, to see if there is production, printing, or package mistake, but most of the factory would do it when they start to make the bulk package, they would check the goods one by one when the pack the towels.
The third inspection party
If we are the first time cooperating with the factory, or our final client needs us to provide the inspection report, then we have to choose the third inspection party to check the bulk goods, this is a very normal thing, in China, Asia, SGS, these 3rd party inspection is very popular in the export goods in China factories.
The factory's real video and photos
Of course, if you don't want to spend money on the 3rd party, then we can ask the sales manager to take a real video or we can ask him or her to make a video inspection, he or she opens some package and take video for you to check the quality of the goods. meanwhile, we can ask them to take more detailed photos of the towels, these jobs are almost the same as the 3rd party inspection company.
Conclusion: If a manufacturer meets the above all options, that would be a very professional and faithful towel manufacturer, we even can establish the long time business relationship, moreover, we can get more and more big support on many different towels purchasing once we cooperated with them for many times, some small orders, they would be very happy to arrange for us, this would help us to save the amount of time and money, it's very good for our business growing.
If you want to find a good manufacturer for Turkish beach towels, please contact Shaanxi Andybella, we don't do one-off deals, please do not send a message to us if you are not responsible for your business.