What is a beach towel?
A beach towel is a large swim towel with some design or logo printed on one side of the towel. It is usually used as a bed sheet at the beach, sometimes to wipe off moisture after swimming to keep your body fresh and dry or to wrap your body against the cold sea breeze at the beach.
Beach towels are almost as big as bath towels, but relatively thin, usually between 300 and 450gsm.
Beach towels are multi-purpose towels. They can be used as a sheet towel to lie on, as a bath towel to wipe or dry water, or as a bath towel to wrap around our waist or shoulders.
It is very useful to carry a beach towel with us when we spend our leisure time at the beach. It will make your beach time more enjoyable.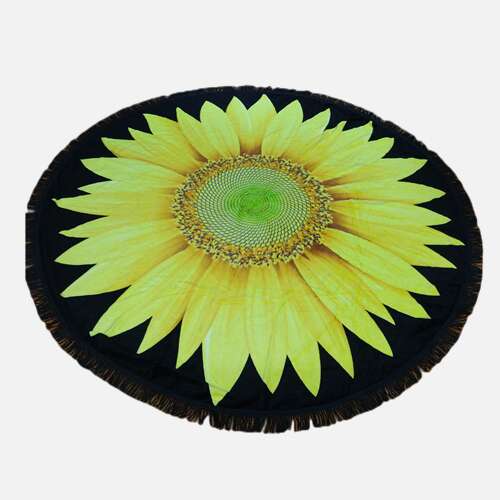 Shapes of beach towels

As we all know, they come in many shapes. Such as square, rectangular, round, or other shapes. Most beach towels are colored, printed, or jacquard with a logo or design
What are the materials used for beach towels?

Beach towels are made from two main materials, cotton, and microfibre.
High-quality beach towels are usually made from 100% cotton, which is natural and environmentally friendly, especially as cotton is a natural material and is skin-friendly. Cotton terry towels absorb moisture quickly and the yarn or loop is usually very short in order to facilitate the removal of adhering sand.
Cotton beach towels usually have various prints on the velour side to ensure a bright and attractive pattern.

Striped towels are usually woven jacquard with dyed yarns and are often used as pool towels. These stripes are customizable but require a starting order, usually from 500 pieces. However, for regular-size striped pool towels, there is no MOQ requirement or MOQ is very low.

Microfibre beach towels are usually colored. They almost always arrive with a print. They are lightweight and quick drying because they are made of polyester and nylon, which is a hydrophobic material. Microfibre beach towels absorb moisture through the voids in the fibers, so once the moisture has been squeezed out of the fibers, the towel dries quickly. Cotton yarn relatively does not have this property.
How do I buy the best beach towel?

As the saying goes, what works for you is the best. When you want a beach towel that is easy to carry around, you should use microfibre beach towels as they are always thin and lightweight to pack easily.

When you want it to dry quickly, microfibre beach towels are the preferred choice. And they are relatively cheap compared to cotton beach towels. Cotton beach towels are very soft, absorbent, durable, and skin-friendly. The only negative aspect of cotton beach towels is the price higher than microfibres.

Beach towels can be used anywhere, beach resorts, riversides, poolside, and backyards.